The BMW iX1 gets a vibrant makeover for Dublin Pride. We had the opportunity to speak with Marie Pujanes, the talented artist entrusted with creating the car's striking look for the MOTHER Block Party, Dublin's premier LGBTQ+ event.
A specially designed wrap for the BMW iX1 will take up residency at Dublin's leading LGBTQ+ Party, during Dublin Pride this June. We speak with Marie Pujanes, the artist charged with designing the car's look for the Mother Block Party.
For more than 20 years, BMW has been a champion of diversity, supporting its staff by creating a working environment free of prejudice and by joining forces with events across the globe that celebrate LGBTQ+ culture and diversity. Here in Ireland, it's taking a first step to becoming an active supporter of the local LGBTQ+ community by partnering with leading Dublin night club MOTHER for its annual Pride Block Party, to be held as part of the Dublin LGBTQ Pride Festival over the weekend of 23-25 June.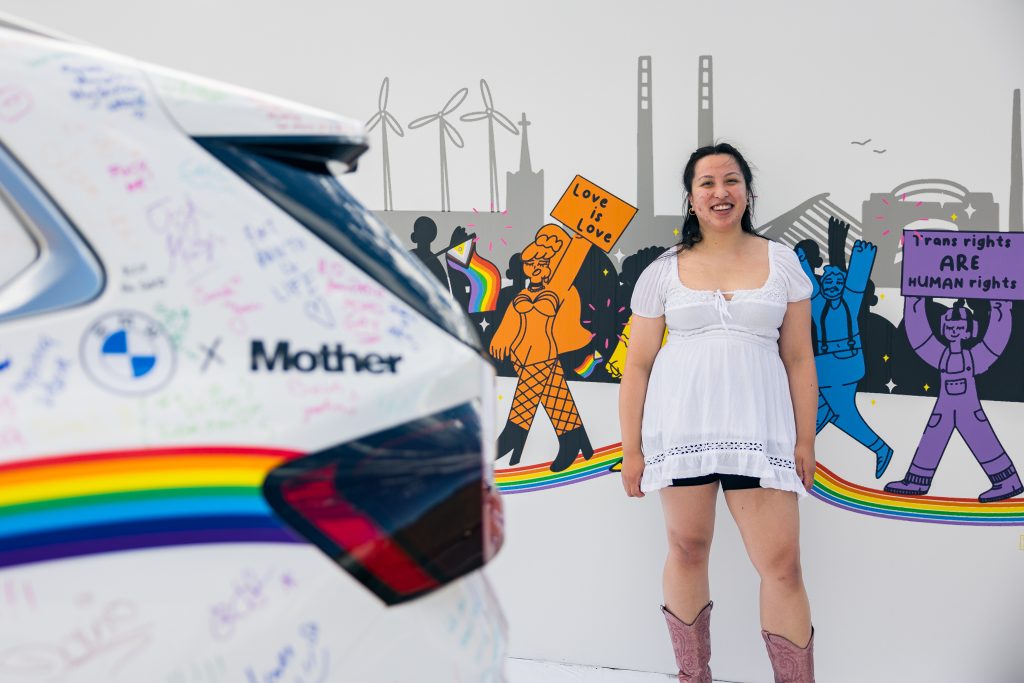 IRISH SLANT ON AN INTERNATIONAL CAMPAIGN OF INCLUSION.
Set to take place at Collins Barracks in Dublin, Mother's Block Party is the biggest ticketed event at the Pride Festival. And BMW will be present with a new iX1 electric SUV featuring a special design on the theme of #UnitedwithPride, BMW's global campaign to support the LGBTQ+ community across the world. But while the hashtag is global, BMW Ireland has gone local for input into the car's exterior design, with Irish artist Marie Pujanes on board to produce a one-off creation.
Marie and her family moved to Ireland from the Philippines when she was seven, but even from a young age she knew that she had an artistic flair. "I've always loved to draw and did art as an exam in school, it was one of my favourite subjects," Marie tells us. "I loved being able to doodle away without getting into trouble, which would sometimes happen in other classes."
When Covid hit, Marie used it as an opportunity to get creative. "I opened my own website and began designing and selling art prints during the first lockdown," she explains. "I've always been creative and wanted to explore this side of me more. I don't think I would have done this if Covid didn't happen as I wouldn't have had the time. I also began doing commissioned pieces, which I really loved! Art has always been a hobby, but I've been lucky enough to work with some amazing businesses."
THE BMW LINK.
One such company was BMW, who wanted to use an Irish LGBTQ+ artist for its Pride collaboration. "I'm part of the community myself, so it is a huge honour to be taking part in a Pride campaign," Marie tells us. "When I first discovered who I truly am, I was a bit reserved and afraid to come out to my family. However, over the years I have become much more confident in who I am, which is a proud queer woman.
"I love the idea of Pride being a celebration of our differences, and I hope that this comes across in my design. The installation I designed for the iX1 features a group of people holding signs and flags in support of the community. It is a colourful piece that shows the differences among our community. While each of us are different, we all have one thing in common – being part of this community.
"The hashtag "United with Pride", which will also be on the car, really captures this in my opinion. People in the LGBTQ+ community often face a lot of difficulties in their lives for being who they are, and so having the chance to celebrate who they are during Pride is so important."
While Marie has focused on the car's design, there's not much chance of her getting behind the wheel. "I currently don't drive, but it's something I am planning to start soon. I have recently started studying for the theory test, so I am making steps in the right direction. I am lucky enough that my partner has her licence and drives me everywhere at the moment!"

WIN WITH BMW & MOTHER!
We have partnered with MOTHER to give you a chance to WIN tickets for you and a plus one to Block Party 2024, along with a voucher for the BMW Driving Experience at Mondello Park to experience the true Driving Pleasure.
All you have to do is send us an email at this address eventsireland@bmw.ie.
Closing date: Sunday 24th June, T&C's below.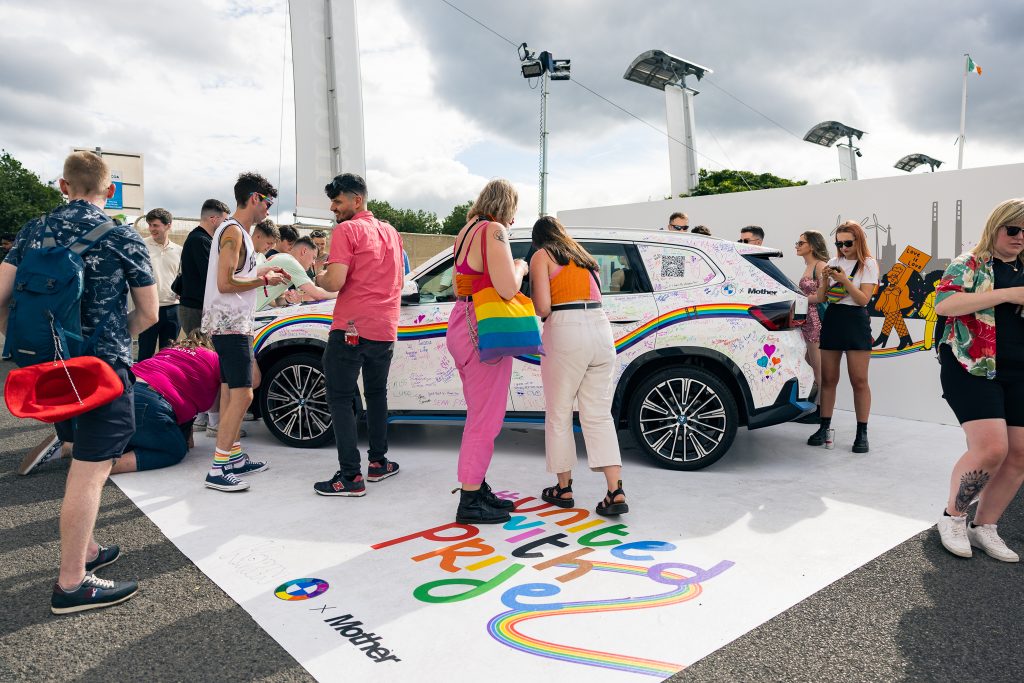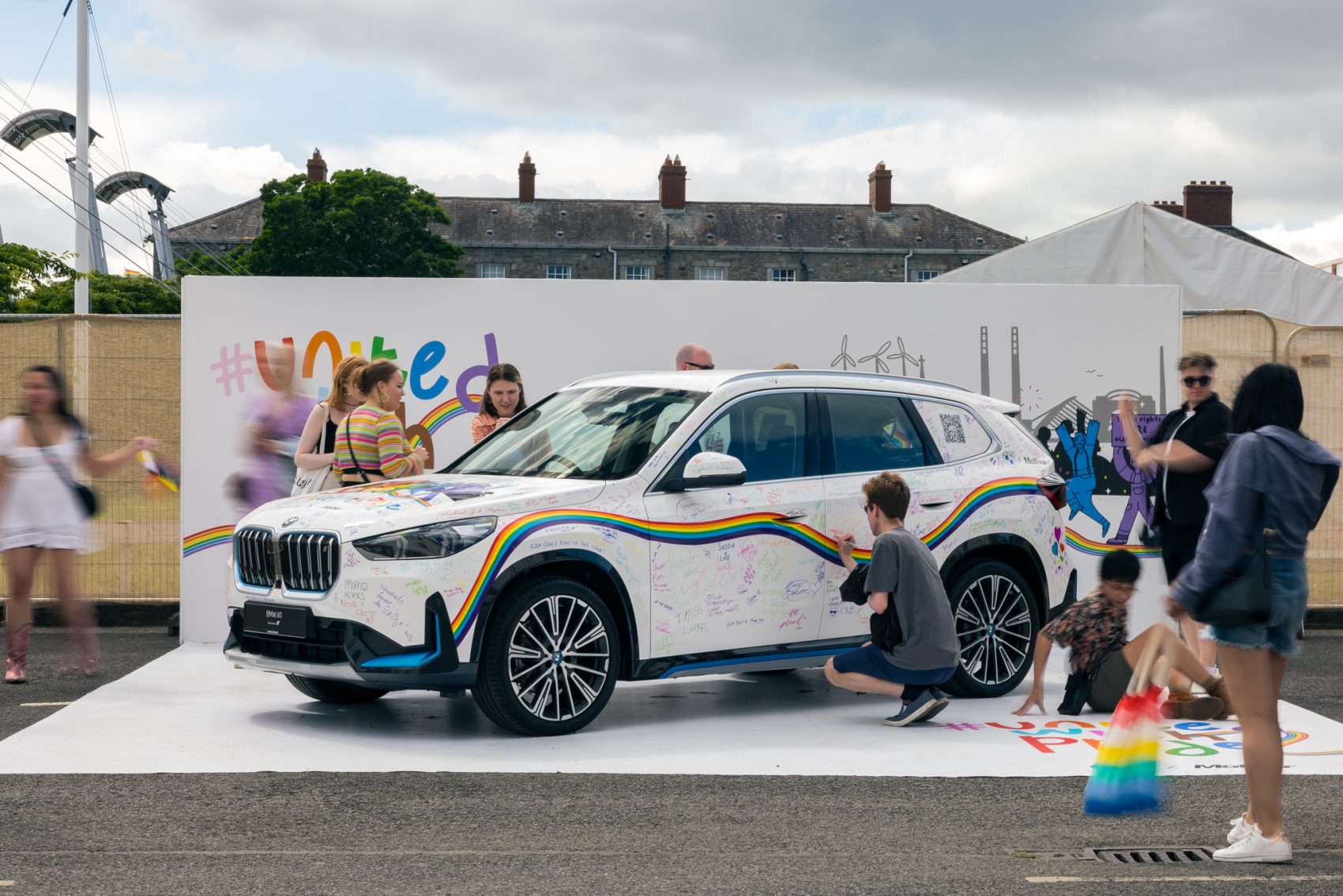 BMW MOTHER PRIDE BLOCK PARTY COMPETITION TERMS AND CONDITIONS.
Please read these terms and conditions carefully prior to participating in this competition. By submitting an entry, you are agreeing to be bound by these terms and conditions. The Promoter reserves the right to refuse entry or refuse to award the prize to anyone in breach of these terms and conditions.
1. The Promoter
The Promoter of this competition is BMW Automotive (Ireland)  Limited of Swift Square, Santry Demesne, Dublin 9, D09 R802, Ireland.
2.  The Prize
2.1 The prize includes Two Tickets to Mother Block Party 2024 & BMW Driving Experience voucher in Mondello Park, the prize must be redeemed by 29th June.
2.2 The prize is subject to availability.  The prize is non-exchangeable and non- transferable and no cash alternative is offered.The Promoter reserves the right to substitute the prize with a prize of equal or greater value.
3.  Eligibility
3.1 The competition is open to persons aged 21 years or over with a full clean driving licence resident in the Republic of Ireland except employees of the Promoter or its associated companies, their families, agents or any third party directly associated with administration of the competition.[1] There is a limit of one entry per household. Entries on behalf of another person will not be accepted.
3.2  In entering the competition, you confirm that you are eligible to do so and eligible to claim the prize. The Promoter may require you to provide proof that you are eligible to enter the competition.
3.3  The Promoter reserves the right at its sole discretion to disqualify you if you tamper with the entry process or the operation of the competition; act in violation of these terms and conditions or your conduct is contrary to the spirit or intention of the competition.
4    Entry to the Competition
4.1  The competition will run from 14:00 on 23.06.2023 (Opening Date) to 12pm Midnight on 24.06.2023 (Closing Date) inclusive.
4.2 All entries must be submitted by emailing at eventsireland@bmw.ie by no later than the Closing Date. All entries received after 12pm Midnight on the Closing Date are automatically disqualified.
4.3  To enter the competition:
(a)   By emailing us with the guest you would like to accompany you to the Mother Pride Block Party 2024 via eventsireland@bmw.ie by 24.06.2023.
4.4  The prize draw is free to enter and no purchase is necessary. The winner will be chosen by random draw, supervised by an independent person on 26.06.2023.
4.5  The Promoter does not accept:
(a)   responsibility for entries that are lost, mislaid, damaged or delayed in transit, regardless of cause, including, for example, as a result of any postal failure, equipment failure, technical malfunction, systems, satellite, network, server, computer hardware or software failure of any kind; or
(b)  proof of posting or transmission as proof of receipt of entry to the competition.
(c)   responsibility if the Competition is not capable of running as planned for any reason to include, but not limited to, infection by computer virus, bugs, tampering, unauthorized intervention, fraud, technical failures, or any other causes beyond the control of the Promoter which corrupt or affect the administration, security, fairness, integrity or proper conduct of the Competition.
5   Winners and Publicity
5.1 The decision of the Promoter is final and no correspondence or discussion will be entered into.
5.2 The Promoter will contact the winner personally as soon as practicable after the Announcement Date, using the telephone number or email address provided with the entry.
5.3 The Promoter will make all reasonable efforts to contact the winner. If the winner cannot be contacted or is not available or has not claimed their prize within [NUMBER] of days of the Announcement Date, the Promoter reserves the right to offer the prize to the next eligible entrant selected from the correct entries that were received before the Closing Date.
5.4 The Promoter must either publish or make available details of the name and county of residence of prize-winners. To comply with this obligation the Promoter will send the name and county of the prize winners to anyone who emails eventsireland@bmw.ie within one month after the Closing Date of the competition.
6 Limitation of Liability
To the extent permitted by law, the Promoter, its agents or distributors will not in any circumstances be responsible or liable to you or any third party, or accept any liability for, any loss, damage, personal injury or death occurring as a result of entry into the competition or taking up the prize. Your statutory rights are not affected.
7  Data Protection
The Promoter will only process your personal information as set out its privacy notice at https://www.BMW.ie/privacy. See also condition 6.4 with regard to the announcement of winners.
8   General
8.1 The Promoter reserves the right to hold void, suspend, cancel, or amend the competition where it becomes necessary to do so.
8.2 The Promoter reserves the right to correct any typographical, printing, computer programming or operating errors at any time.
8.3 These terms and conditions shall be governed by Irish law, and the parties submit to the non-exclusive jurisdiction of the Irish Courts.
Please note these terms and conditions have not been drafted so as to include children as consumers.