We talk to Patrick Jackson, the founder of Picker Pals, Ireland's leading environmental awareness programme for primary schools.
We talk to Patrick Jackson, the founder of Picker Pals, Ireland's leading environmental awareness programme for primary schools.
Picker Pals founder Patrick Jackson has always had a keen interest in the environment that stretches back many years. "I spent 12 years in Japan teaching kids English," he explains. "And I was very impressed by how well everybody looked after the place and how they looked after their stuff. I learned a lot about how we can take responsibility for the environment around us."
However, it was back in Ireland where he came up with the idea for the Picker Pals environmental programme for primary schools, and one specific moment in particular, on his regular walk with his dog: "I was out one day and came across a seagull that was caught up in a fishing line. It was pretty horrendous, but I managed to free this bird and went on my way. The next day, I passed the same place and there was a litter picker upper sitting on the ground, so I grabbed it and started litter picking. Immediately I got completely hooked on it. It's brilliant: once you start litter picking, you can't stop."
"I really enjoyed making a 20 minute clean-up part of my daily routine",he tells us. "Then one day a woman came up to me and said, 'are you going to clean up the whole world like that?' To which I said 'No, but I'm gonna clean up this bit.'
"And then I thought, well, I could try and create a system around this. And who are the best pickers? They're going to be little kids, because they're low to the ground already, and they can be quite picky. So with that in mind I created the first Picker Pack."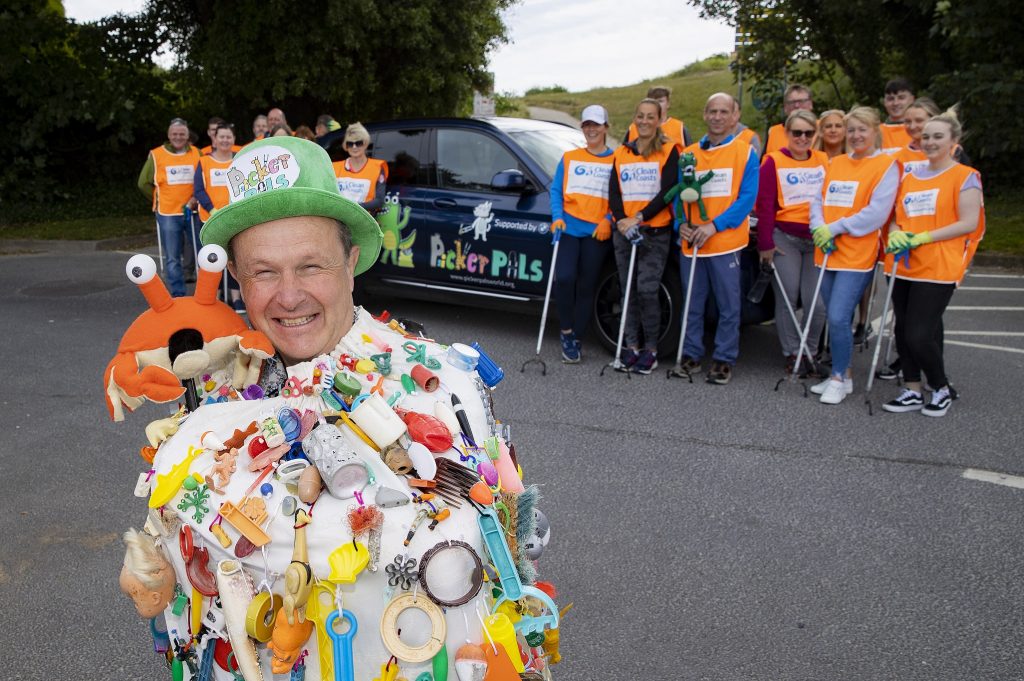 The Picker Pack is the basis of the programme that visits schools across Ireland to promote environmental issues and help kids to keep their local environment tidy. But the first prototype was a little unorthodox. "My mother made it out of the legs of my oilskin trousers," Patrick explains.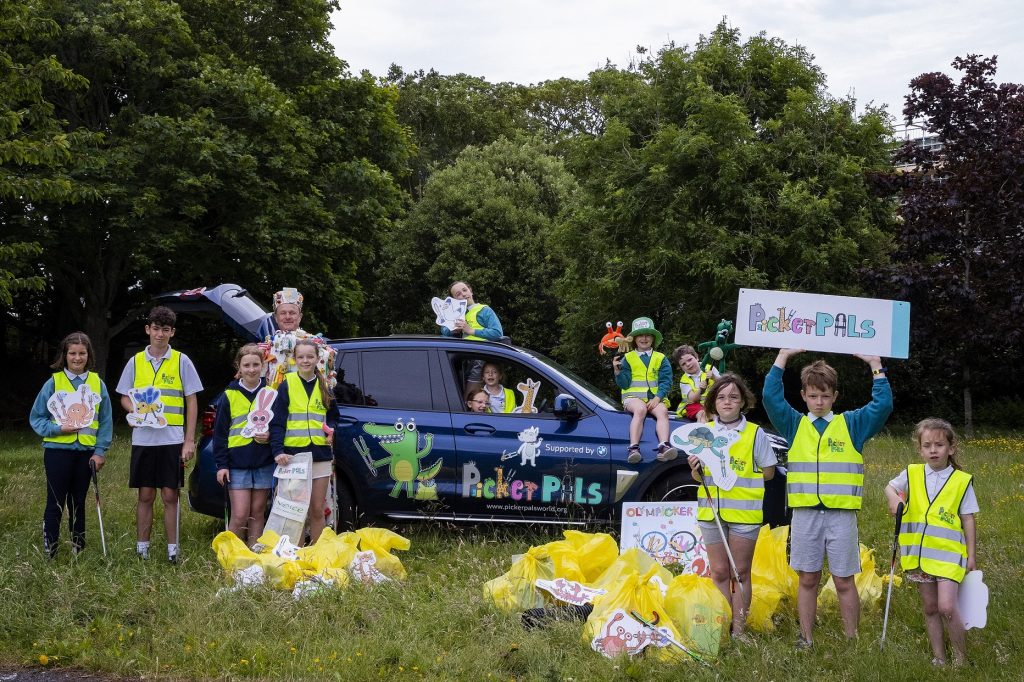 From there, Picker Pals quickly grew. Aided by Patrick's background as a children's author, he created a group of Picker Pals characters and came up with the Picker Pals song, all to help engage children aged from 6-9 to help clean up their local environment. "We created some activity books, and they were a hit, so we found sponsorship from a local estate agent, and then Fingal County Council got involved," Patrick explains. "That meant we could do Picker Pals in 10 schools, and then 30 schools, and then more local authorities got into it. More sponsors came on board, and then we got a big grant from the Department of Environment. So this year, we're in 1,350 classrooms across Ireland. Last year, we were in 1,250 classrooms and we will have been in 59 per cent of the schools in the country by the end of the school year."
BMW is taking an active involvement with the project, too, both as a sponsor and via the dealer network in Ireland. With 90 BMW-sponsored classrooms across the country, that's 2,372 kids taking part, and when you factor in the adults and siblings that also come along, there are nearly 6,000 participants in litter picking adventures. Even if they just pick two kilograms of litter each, that's potentially 12 tonnes of litter collected, or about the weight of two elephants!
So how did BMW's involvement come about? "Picker Pals is administered by the Voice of Irish Concern for the Environment (VOICE), a non-governmental organisation that already had a relationship with BMW," Patrick explains. "Through them we were able to go to BMW and say 'Hey, we've got this new thing'. The team at BMW is very committed to a sustainability agenda, and the network of dealerships around the country ties in very nicely. The dealerships have been really generous in supporting schools in their local area. It creates a very nice connection with the local community, and a very positive connection with the kids."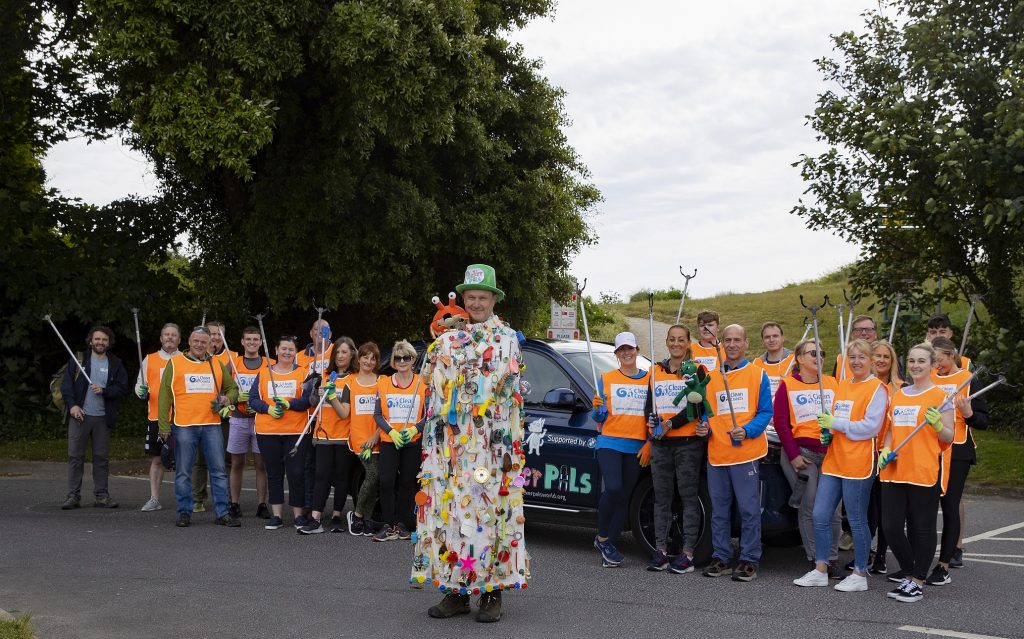 And then there's the Pickermobile. "Ah yes, BMW have also provided the use of an iX3 to help get the message out, and it has the Picker Pals all over the side of it," Patrick tells us. "It arrives at a school, and the kids are excited, because they haven't seen a car that has cartoons on it, and they rush out to take a look. Then I can tell the kids about the car, that it's electric, it's an environmental thing. It's a very positive thing for the families to be associated with, and for BMW to be associated with, because I guess those eight-year-olds will be BMW drivers one day.
"It certainly turns heads," Patrick continues. "it has meant that I can roll up in style and it really adds to the programme. You see people standing in the street and they're like 'wow that's a really cool, new, beautiful car', and it's got Picker Pals written all over it. I completely appreciate the way that BMW has helped Picker Pals, it's a good and mutually beneficial thing."
Patrick has managed to visit all the counties in Ireland on his Picker Pals adventures, which is something that the electric iX3 has coped with admirably. "I've never driven an electric car before, so that's been really interesting. I've enjoyed the feeling of the car, and I like the fact that, environmentally speaking, it's better than churning out a load of fumes everywhere I go. I just wish there were more charging points. I haven't had a disaster yet, but it would be so much more relaxing if they had more chargers. But everyone knows that. It's just been really useful to get around the country – I even had the car down on Bere Island last year, getting on to the little ferry that goes over so I could drive to the National School."
Picker Pals is clearly going from strength to strength, and there are plans to take it global, with projects starting in Portugal and London in the near future. BMW Ireland is also expanding its involvement. At BMW Group HQ in Dublin, a Picker Pack has been set up for staff to take home at weekends, while April will see a companywide litter-picking event take place, including a visit to the Rediscovery centre in Ballymun to learn about the circular economy. A second event is planned for June, too, where a visit to Howth will highlight the effects of plastic in our oceans.
For more information on Picker Pals, and how your local school can get involved for the 2023-2024 academic year visit https://pickerpalsworld.org/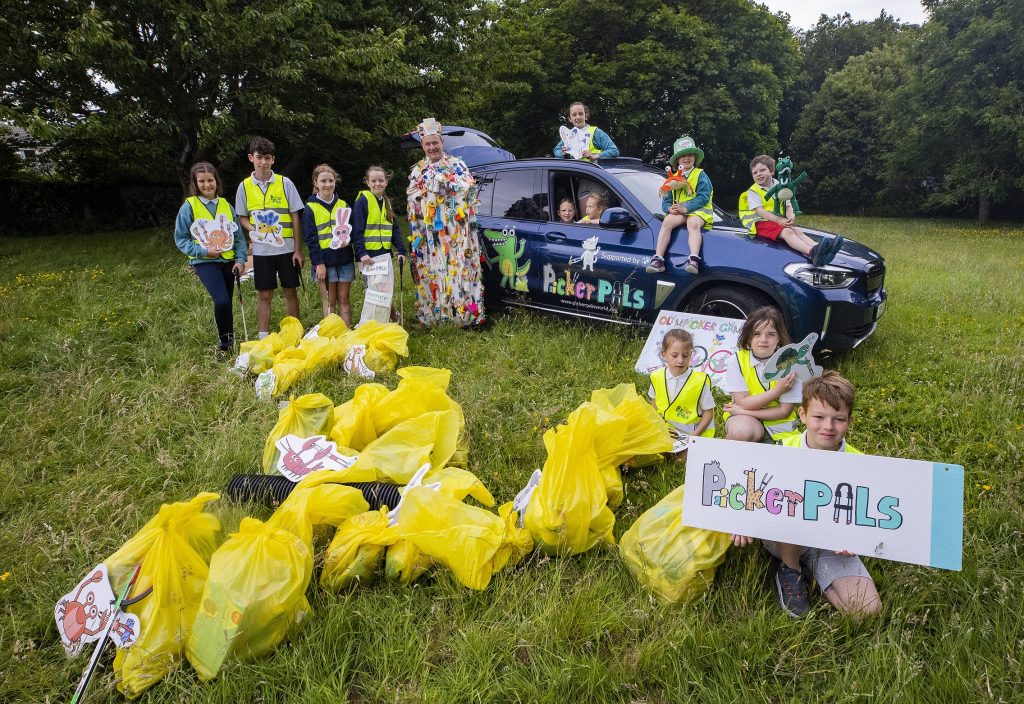 Picker Pals founder Patrick Jackson and children from Burrow N.S. Sutton on a litter picking adventure.