1. Become the new MD of a premium brand in a new market
2. Relocate to a new country.
3. Navigate a National Retailer Network & through an unprecedented Global Pandemic
IN CONVERSATION WITH KEVIN DAVIDSON – MD BMW IRELAND.
Kevin Davidson was appointed as the new MD of BMW Group Ireland at the beginning of 2020. With a long standing career of 29 years with the BMW group he brought extensive brand knowledge and expertise with him.
Ireland has always been close to his heart, he mentions "I was excited about the prospect of being MD, I always wanted to have this position in a market, and to do it in Ireland made it even more enticing as the bloodline on my mother's side goes back to the 1700's in Cork".
HURDLES TO OVERCOME.
The Covid-19 pandemic has required leaders to make decisions under considerable pressure. When asked about the biggest challenge during these first few months, Kevin said "Clearly the COVID- 19 pandemic has been the biggest challenge. 10 weeks into my new role the whole team was working digitally and remotely. And we had to learn how to do this together, fast". He also credited the team for their quick adaptability which helped ensure that the day to day business didn't suffer.
THE IMPORTANCE OF TRANSPARENCY AND AUTHENTICITY.
Moving into his new leadership role Kevin mentions that it was "integral" to create an honest and open channel of communication within the team and further added that "Authenticity is the only approach that can work".
KEEPING THE TEAM MOTIVATED.
Many business leaders have been acting as a "Chief Crisis Officer" as they work to ensure their firm's survival and try to manage the physical, mental, and social well-being of their employees. Clear communication in a consistent, frequent and transparent way could be pinned as the primary formula. Explaining the process Kevin said that "Our weekly team meetings and infamous pub quizzes were key in the early days of lockdown. Forming project groups kept everyone involved and kept multiple departments communicating with each other. The quiz evenings really helped boost moral within the team."
THE HIGHS AND LOWS.
Very graciously Kevin mentions "The dedication of my team and the relationship we have with our Financial Services Company and our Retail Network for me has been the absolute highlight. We are all one team and this shows in our results."
On the negative side, staying away from family and loved ones has been the toughest part. As he put it "My family are in the UK. I have a partner and three girls. Two of them are 16 years old so it's tough not to see them. With the isolation rules the plans I've had on personal and family travel have had to flex for now".
INDUSTRY INSIGHTS.
Talking about the differences between the industry here and the UK or Canada, Kevin joked and mentioned that 3 has been his favourite number and Ireland is the 3rd market he has worked in. Sharing his positive experience he mentions that "I think Ireland is much more intimate – it's smaller, which means you are made to feel welcome much quicker. Everyone knows everyone in the industry and that helps with integration. Customers are similar though – they want you to be easy to do business with and have high demands – but if you meet these demands they respect you with their loyalty".
Comparing the BMW & MINI brands Kevin shared a nostalgic story, "I love both brands, at 12 months old my father bought me a toy MINI for Christmas – I still have the photo! 52 years on I'm a proud to say I'm MD of the BMW & MINI Irish market. I make it a priority to test all our models across both brands– we really do have something to meet everyone's needs".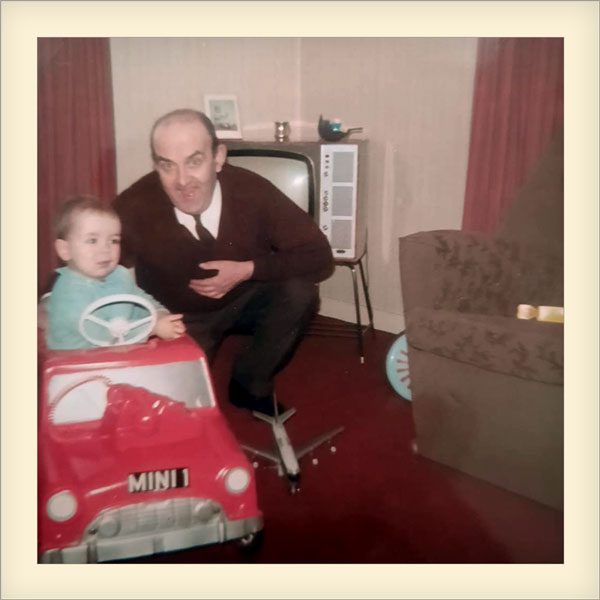 Furthermore talking about his experience of working abroad, he explains that looking at the positives will "outweigh any challenges". He also encourages the process of working abroad, "every day is a learning experience and doing it in another market widens your knowledge and your contact base. For me everyone should do it, we would be stronger globally if we did that."
WORK MANTRA AND THE RECOVERY ROAD AHEAD.
When asked what his work mantra was, Kevin offers the advice "Be prepared to learn every day, ask questions, take the initiative, be a team player, be a nice person and give back to the community you live in".
For his closing note he mentions that the road to recovery out of the current times would be a very unique one.
"For some sectors like hospitality and tourism it's tougher. But I think every country should implement testing at airports and ports and another test 3-4 days later. If this happened we could boost the economy whilst staying healthy and safe. We know this, now we just need to do it! For automotive we have an outstanding and flexible range of cars and bikes so being the best in our market is our goal. We will continue to develop digitally and the range will further electrify".