Run and Ride for Pieta is Triathlon Ireland's nationwide duathlon campaign, supported by BMW Ireland (Triathlon Ireland's Title sponsor) and designed to kick-off the outdoor summer season. Off The Ball are also getting involved by partaking in the challenge.
GET YOUR SUMMER RACING STARTED!

#RunandRideChallenge
Every Monday two new duathlon challenges for beginner and expert level athletes are released which must be completed by Sunday night. Results are posted to a scoreboard that will feature thousands of others tackling the exact same challenge across the country.

The challenges are all designed to be done from home, all you need is a pair of runners and a bike!

Each week the distances get longer and the duathlons harder until the final challenge of a sprint distance duathlon (for starter level challengers) or a gruelling middle distance duathlon (for expert level challengers) on week 6.
Run and Ride finishes up on the week before July 20th – the opening date of the 2020 triathlon season.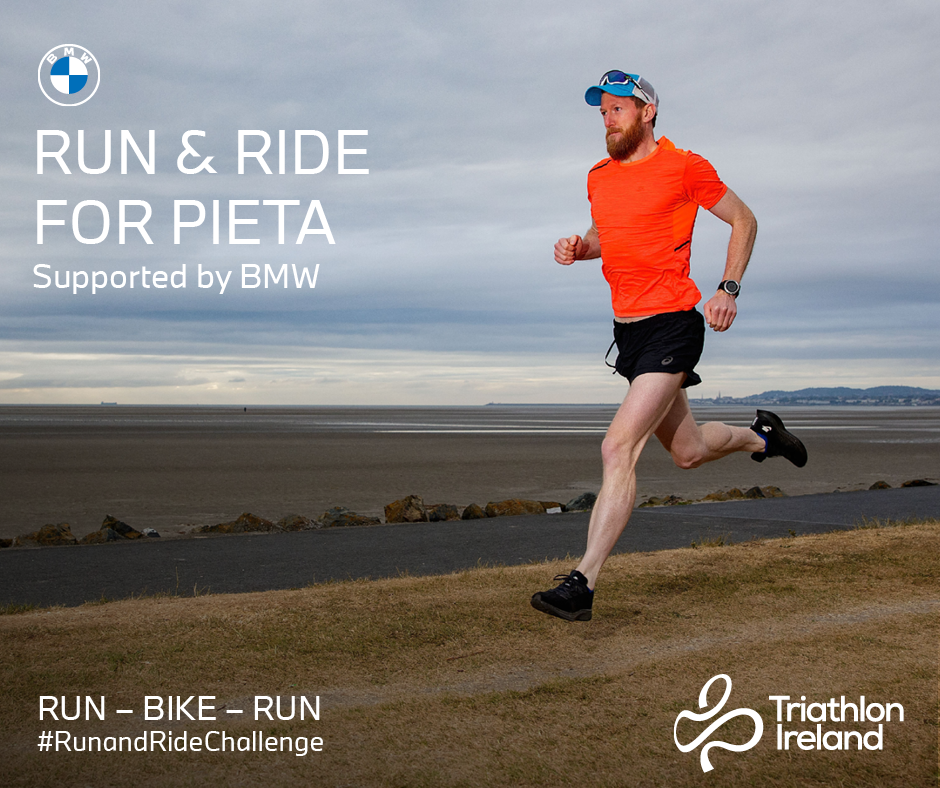 CHALLENGES FOR EVERYBODY
There are two levels of difficulty in the Run and Ride for Pieta:
STARTER: For people who are getting fit and want to take on the challenge of completing a full sprint distance duathlon (5km run then a 20km bike, then a 2.5km run – all without stopping) by week 6!
EXPERT: For existing people who have completed a duathlon or triathlon in the past. This is a series of tough challenges starting with a sprint distance duathlon on week 1 and building up to a middle distance distance duathlon by week 6.
Each week our friends in Off The Ball will interview training experts from Tri Ireland, they will also announce the best athletes from the previous week's challenges and will give away two fantastic spot prizes to a randomly selected female and male from the participants.
There are great prizes to be won including:
Entry to Triathlon Ireland Race including a Tri Ireland Membership
BMW Triathlon Ireland Pro Cycling Kit
BMW Triathlon Ireland Running & Casual Kit
2 x €200 vouchers to Cycle super Store
BMW Cruise Bike!!
RUN AND RIDE FOR PIETA
Run and Ride for Pieta is completely free of charge but we do ask that you donate a small fee – or better still fundraise for our 2020 chosen charity partner Pieta House, we can continue our support to ensure Pieta's services can be sustained during these difficult times.
GET STARTED
Getting started is easy –simply head to the Run and Ride for Pieta homepage and click the ENTER HERE button and select your challenge for each of the six weeks (your selection is flexible and can change depending on what you want to get out of the challenge, if you want to step up or down a level)​​​.